Niko Contardi. CEO, Founder & Leader in The Luxury Travel Industry
Niko Contardi is a Miami-based entrepreneur and leading figure in the worlds of bespoke tourism and ultra-luxury travel. Most notably, he is the founder and Chief Executive Officer of EliteLyfe, one of the world's top luxury travel agencies and platinum concierge services. 
The Billionaire Broker & "Fixer For The Few"
Niko has developed a diverse portfolio and extensive network in the high-end leisure, travel and tourism industries. His background in luxury, high-value real estate and exclusive concierge services for the world's 1% have led to him become known as "The Billionaire Broker" and "Fixer For The Few".
CEO & Founder of Elitelyfe Luxury Travel Agency
10+ Years of Experience as an Executive in Luxury Real Estate, Travel & Tourism Industries
Partners in Miami, New York, London & other international destinations
Solving The Unsolvable For The Most Demanding of Elite Clientele
Niko Contardi's luxury travel agency EliteLyfe has become the go-to source for elite experiences among the world's ultra-rich and famous. Whether it's orchestrating an around-the-world vacation on a superyacht or planning dinner with the pope, Niko and his team are known to make the impossible possible and blow even the most discerning clientele's expectations out of the water.
"We do what Walt Disney did for kids—bring them to the playground and let them run wild with their imaginations. Instead, we do that for billionaire clients around the world from private jets, villas, and superyachts to renting or buying islands."
Niko Contardi
CEO & Founder, EliteLyfe
Over A Decade in Bespoke Travel, High-End Real Estate & Luxury Tourism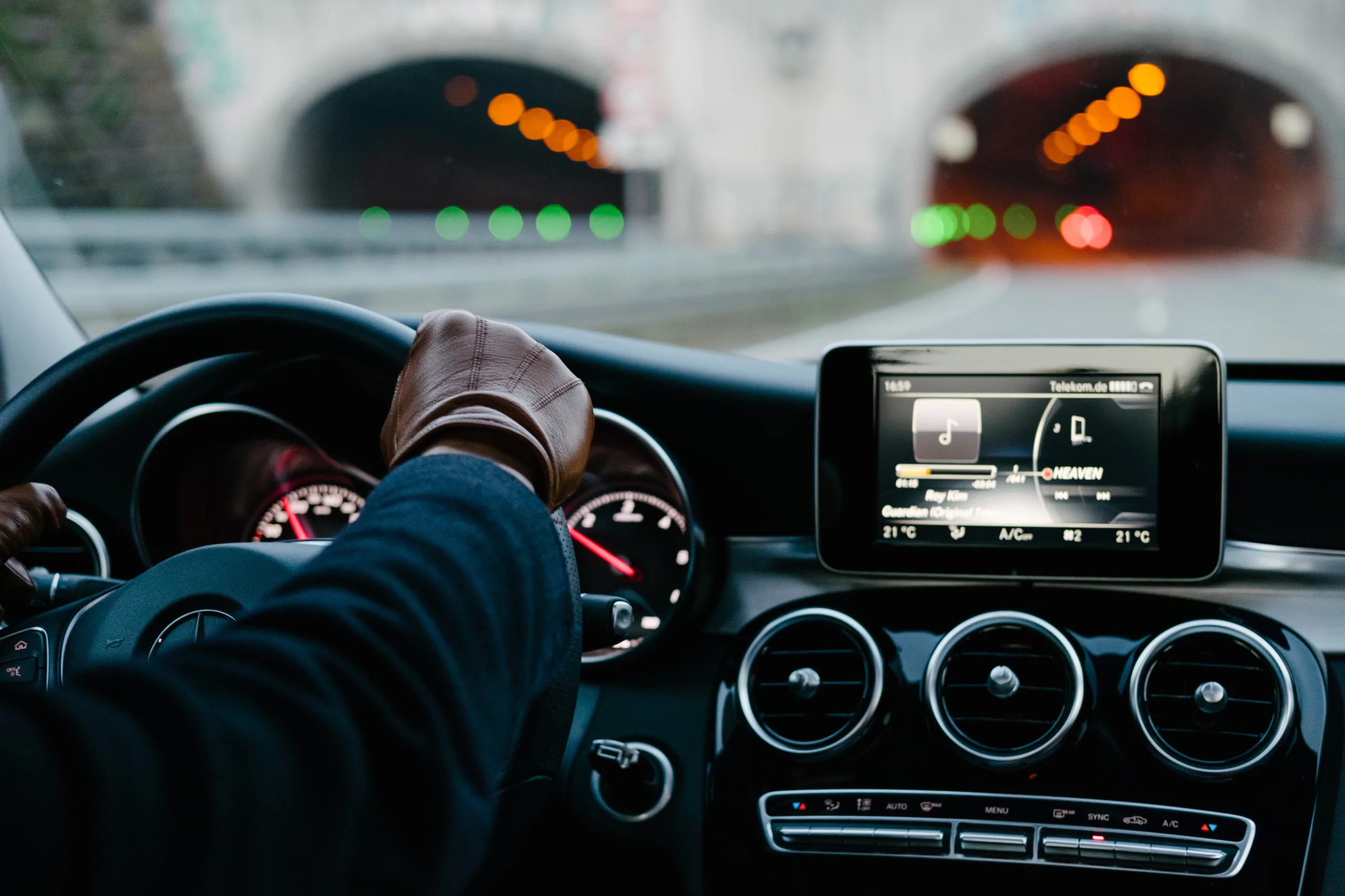 Cofounder of LondonElyte
Founded in April 2022, LondonElyte is London's premier white-glove chauffeur and luxury vehicle rental service.  LondonElyte is run by a select group of specialist chauffeur drivers and is headed by Scott Phillpot, Pro Driver's QSI Professional Driver Of The Year 2019. The business was created to deliver the best possible luxury driving experience in London.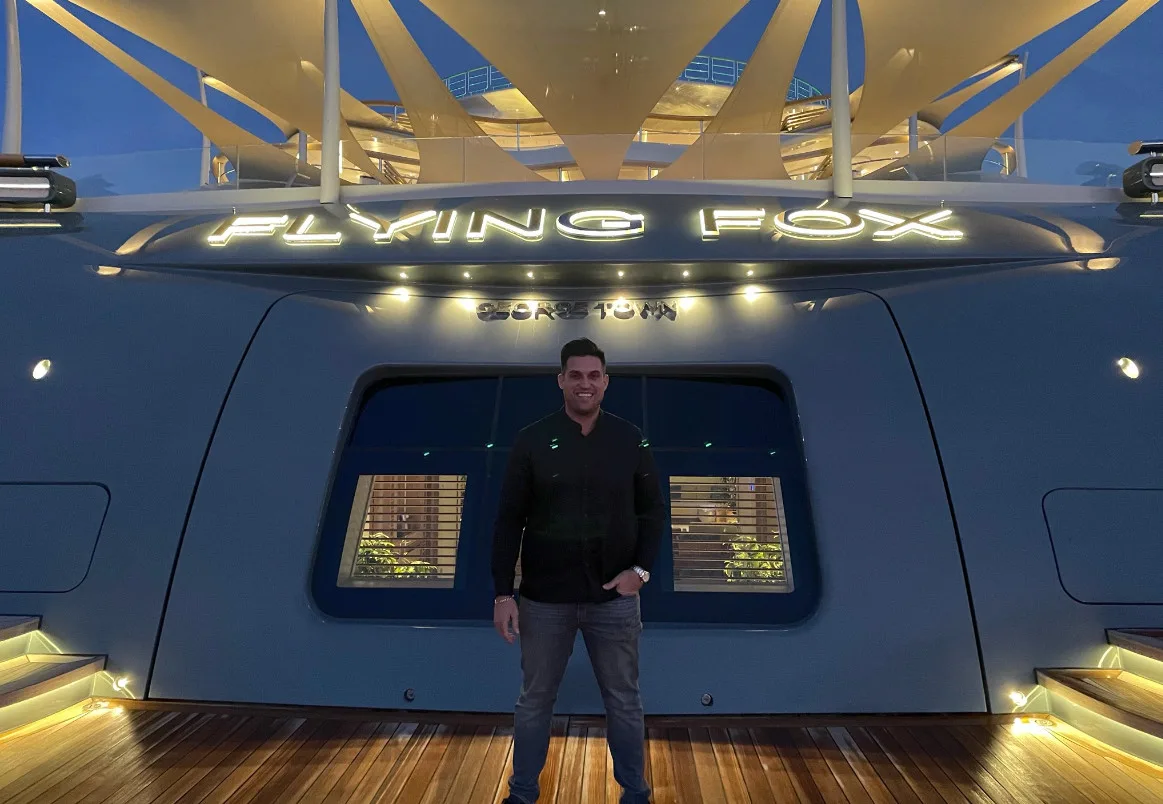 CEO & Founder of EliteLyfe
CEO & Founder of EliteLyfe, a high-end villa rental and luxury travel agency. EliteLyfe caters to the world's most affluent jet-setters, partnering with prestigious hotels, villas, and concierge companies around the world to offer an all-access pass to global luxury. From estates in the most highly sought-after vacation destinations to private supercars, superyachts, helicopters, and jets, EliteLyfe takes care of every aspect of the ultra-luxury travel experience.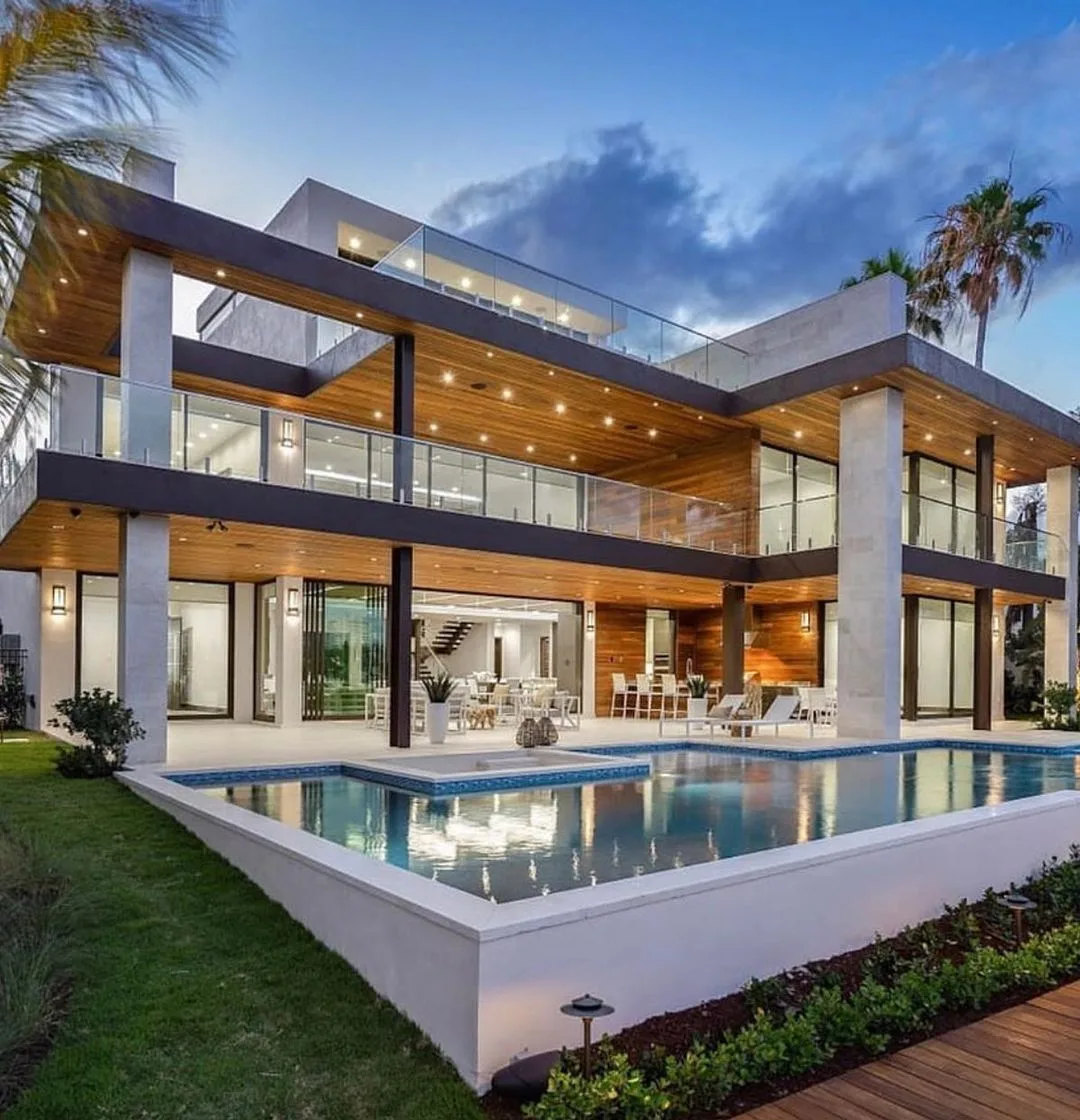 Executive Director at International Property Associates
After establishing EliteLyfe in 2014, Niko became the Executive Director at International Property Associates. IPA is a San Diego-based firm that represents some of the most luxurious high-value real estate in the world. Renowned for its customer-centric approach, IPA has grown to manage a large portfolio of luxury real estate in popular destinations for a loyal, discerning clientele.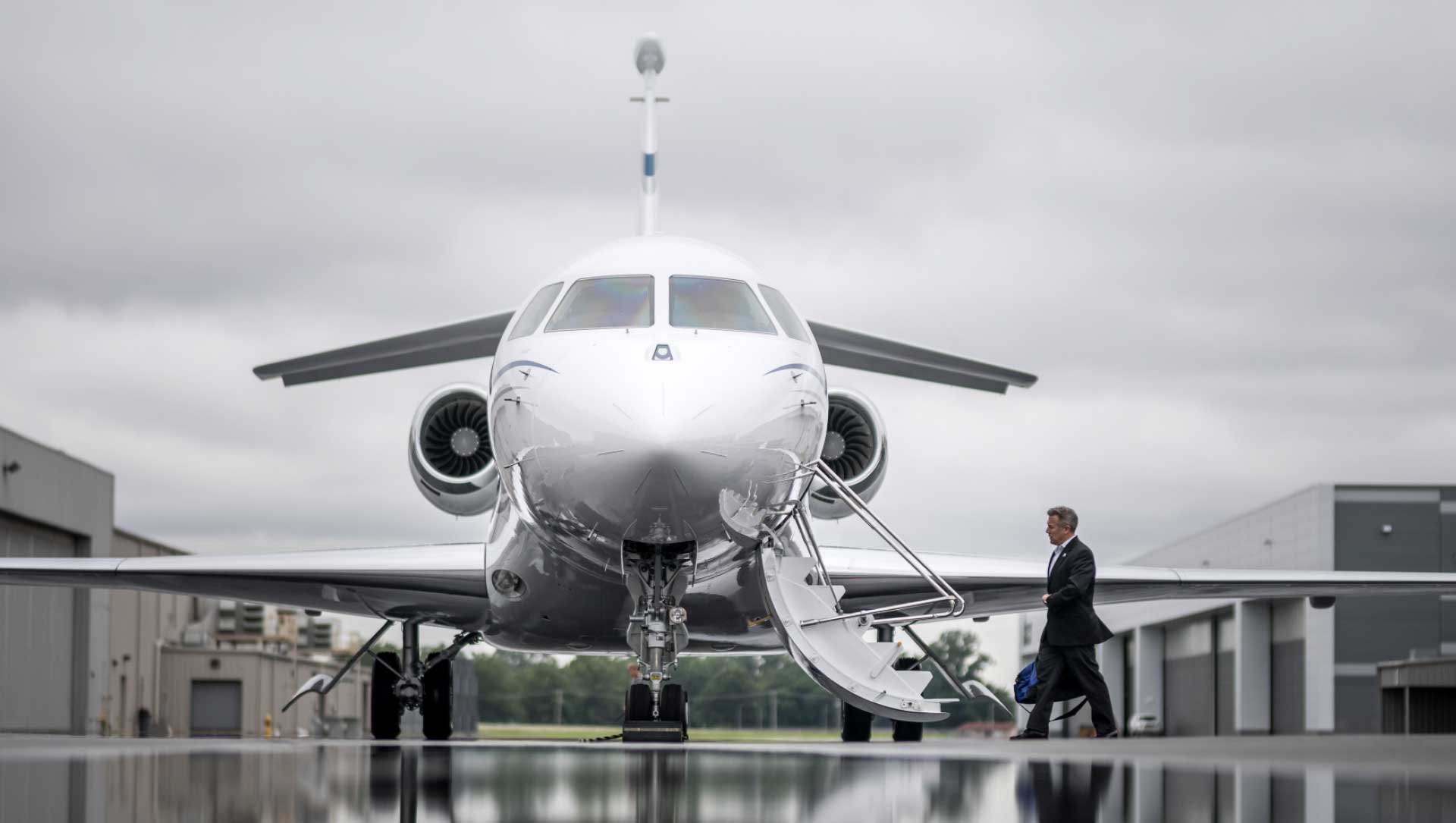 Entrepreneurial Studies at California State University San Marcos
Between 2008 and 2010, Niko studied the Entrepreneurial Studies track at California State University San Marcos Entrepreneurship tracks help students incubate a business idea, evaluate the viability of their idea, develop a well-conceived business plan, and learn the essentials of starting and managing a start-up business. These skills helped Niko build the foundation for his vision of a luxury travel agency catering to the world's elite several years later. 
Jets, Mansions, Villas, Supercars & Superyachts
A diverse portfolio of businesses and investments across the high-end travel, tourism, and real estate industries.
A Travel Professional With International Acclaim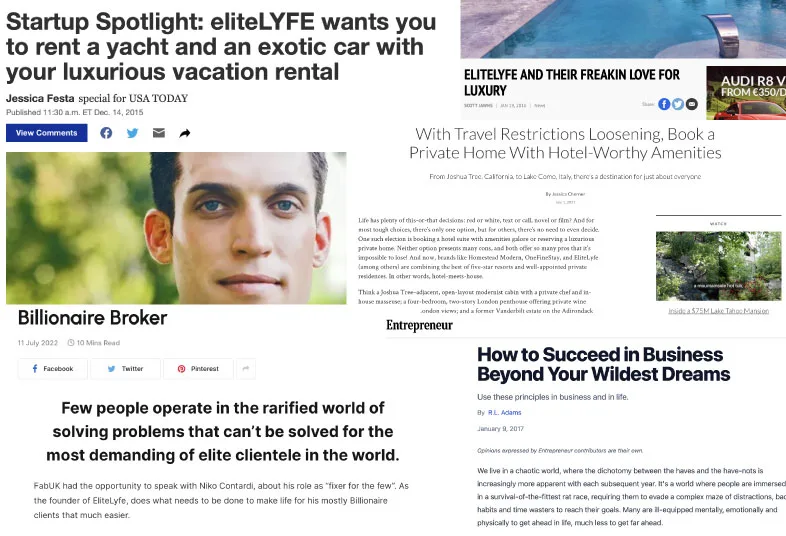 "EliteLyfe takes things to the next level by offering concierge-style services and ultra-exclusive add-ons."
Niko Contardi and EliteLyfe have been featured across major national and international media outlets, including Forbes, USA Today, Architectural Digest, and FabUK. Notable stories and features include providing safe vacation havens during a global pandemic, ushering in more streamlined booking technology, and achieving unimaginable feats for their growing base of elite clientele. 
Words From The Media, Partners, & Clients
Few people operate in the rarified world of solving problems that can't be solved for the most demanding of elite clientele in the world. If you want the most luxurious experience in the world, then you would call Niko Contardi the 'Billionaire broker'. Niko started the business 8 years ago in San Diego, C.A., where he started to notice that there was one thing that his clients needed the most…time. He then made it his main goal to have an all-encompassing service for his clients that is efficient and user-friendly, hence he is developing a unique software technology that has one reservation system with live inventory.
The rise of Airbnb and HomeAway has made vacation rentals a top accommodation choice for business and leisure travelers alike. While those two sites pretty much dominate the home-sharing market, a crop of startups has started popping up to cater to the luxury traveler. One of those startups, EliteLyfe, aims to take things to the next level by offering concierge-style services and super exclusive add-ons.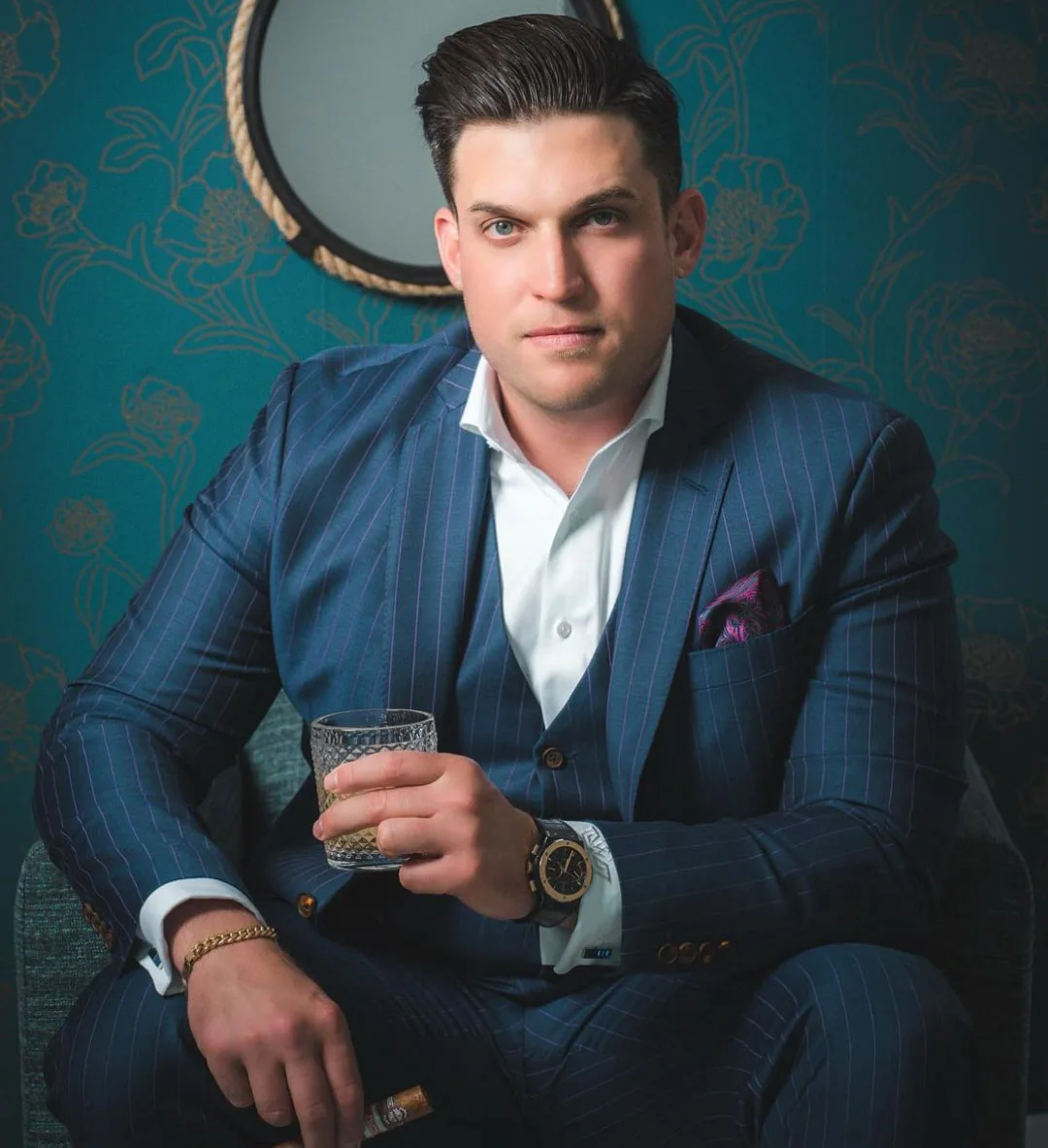 "Delivering real value in business is what makes the difference between the so-called winners and losers. Those who try to cut corners and take shortcuts don't actually get ahead in the long term. They might make some short-term traction, but that's about it."
— Niko Contardi
Inquires, Partnerships & Collaborations
Location
Miami, Florida, United States